The acronym ICE, which stands for Immigration and Customs Enforcement, brings fear to some and a sense of protection for others in this country.
It was the summer of 2003 when Thomas Homan had been reassigned to Washington D.C. after four years in San Antonio. Then, a trailer with 70 people inside was found on a desolate patch of highway near Victoria. Nineteen of those inside had died, including a 5-year-old boy. Homan's superiors at Homeland Security sent him back to Texas as the lead investigator.
"I still get emotional when I talk about it. I had a 5-year-old little boy during that time. I walked amongst those bodies and it's a terrible thing to see. That's when people question me why I'm so passionate and emotional about this issue. About sanctuary cities and border crime and so forth. I've seen what I've seen," Homan said.
Now he's the acting director of U.S. Immigration and Customs Enforcement and says he uses that memory to discuss the price of human smuggling – if not investigated and prosecuted. That's why he was concerned when he heard about 12 undocumented immigrants, including a minor, found in a trailer in San Antonio on December 23, 2017.
CLICK HERE to read the full story.
[ABs_button size="large" style="normal" url="http://sapoa.org/wp-content/uploads/2018/01/ALHuman-SmugglingMH12232017.pdf" target="_self"]View Full PDF[/ABs_button]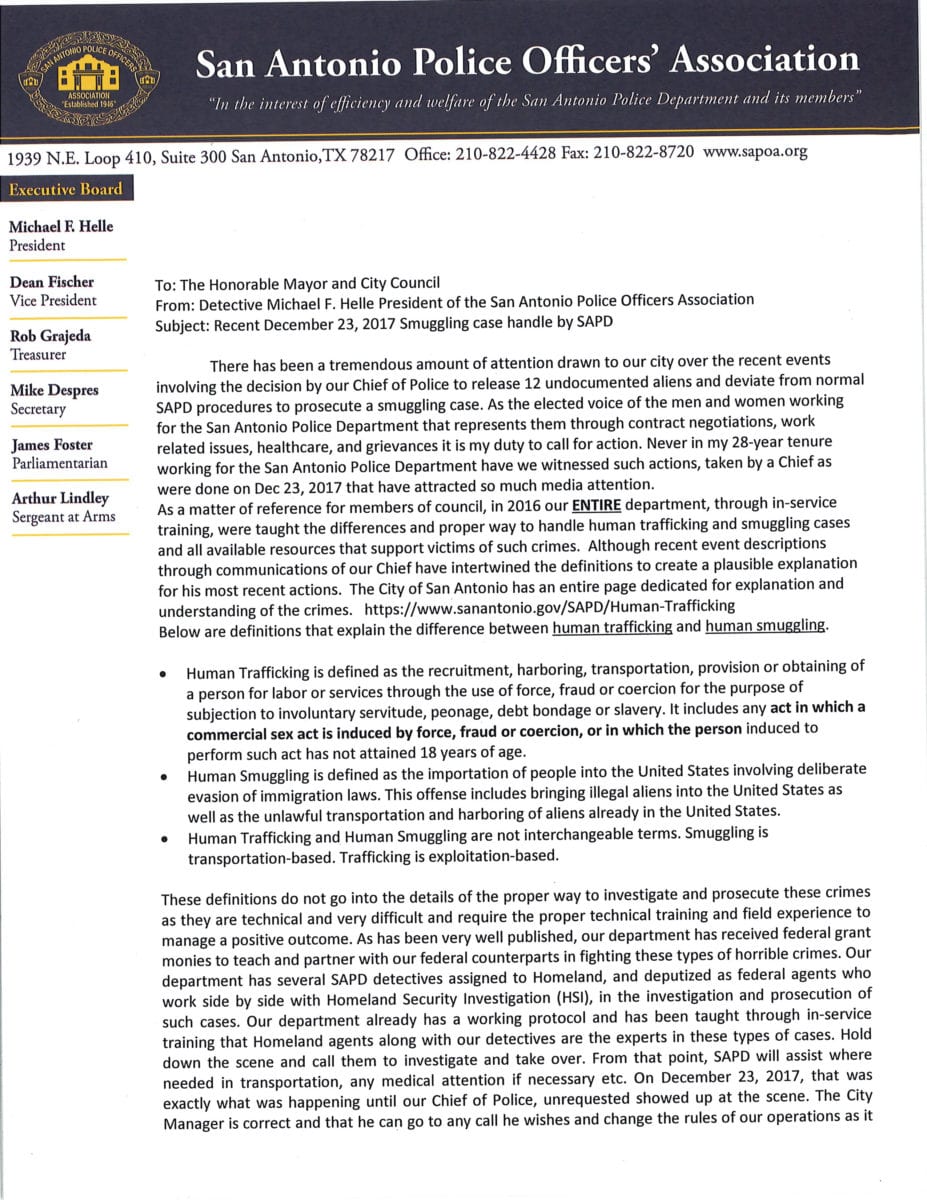 [ABs_button size="large" style="normal" url="http://sapoa.org/wp-content/uploads/2018/01/ALHuman-SmugglingMH12232017.pdf" target="_self"]View Full PDF[/ABs_button]
The San Antonio Police Officers Association is proud to announce their 2016 primary endorsements. We are thankful for every candidate who took the time to sit down and talk with our team. Our endorsement process encompasses a thorough interview geared towards identifying the candidates who best understand the role of law enforcement officials in our community.
As a family, SAPOA endorsed those candidates who offered an open door policy and approach to public safety that values and recognizes the unique sacrifice our first responders play in San Antonio. Our endorsement is a partnership and we look forward to supporting our endorsed candidates as they seek election in March.
US Representative District 21 – Lamar Smith
Justice Supreme Court Place 5 – Paul Green
Judge Court of Criminal Appeals Place 5 – Sid Harle
Judge Court of Criminal Appeals Place 6 – Michael E Keasler
State Senator District 19 – Carlos Uresti
State Senator District 26 – Jose Menendez
State Representative District 121 – Joe Straus
State Representative District 116 – Diane Arevalo
State Representative District 124 – Ina Minjarez
District Judge 57th Judicial District – Toni Arteaga
District Judge 131st Judicial District – Norma Gonzalez
District Judge 175th Judicial District – Tony Jimenez
District Judge 386th Judicial District – Laura Parker
District Judge 399th Judicial District – Ray Olivarri
District Judge 438th Judicial District – Rosie Alvarado
Judge County Court at Law NO 5 – John Longoria
Tax Assessor Collector – Albert Uresti
County Commissioner Pct 3 – Kevin Wolff
Justice of the Peace Pct 2 Place 2 – Steve Walker
As of January 1, 2016, owners of a concealed handgun license were allowed the right to openly carry their firearms in a shoulder or hip holster.
Governor Greg Abbott signed House Bill 910 on June 13, 2015 allowing Texans who are properly licensed to openly carry a handgun.
No matter what your stance on the law is, it's important to know the facts. The general rule of thumb is that the existing rules and regulations under Texas' concealed handgun law now apply to open carry. However, let's take a look at the components of the law and get a refresher on the requirements to obtain a license.
The Law
Texas is the 45th state to pass the open carry law and only the 15th to require a license or permit to do so.
The new law doesn't mean that just anyone can go buy a handgun and carry it around in a holster; people still have to apply for a state-issued license, just as if they were going to carry a concealed firearm. Below is a quick reference guide to the new law and what it entails.
Authorizes people with the proper license to carry their weapon in the same places that allow licensed carrying of a concealed handgun with some exceptions (see below).
Unconcealed handguns, loaded or not, must be carried in a shoulder or belt holster.
Individuals who hold a valid CHL may continue to carry with valid existing license.
Individuals currently licensed will not be required to attend additional training.
The training curriculum for new applicants has been updated to reflect new requirements related to the use of restraint holsters and methods to ensure the secure carrying of openly carried handguns.
The eligibility and criteria to obtain a license to carry do not change with the new law.
Open carry is NOT permitted by a license holder regardless of whether the handgun is holstered on the premises of an institution of higher education or on the premises of a privately owned business with the proper signage.
Under the law, officers can ask to see an individual's handgun license. However, they are not permitted to ask to see your license simply because you are carrying. Just like driving a car, there must be reasonable suspicion of a crime or that the person is unlicensed.
The requirements for obtaining a carry license are still as follows:
Individual must be 21 years or older to apply, or 18 and older if active duty in the military.
The applicant must complete a four-hour class on the rights and responsibilities of carrying a firearm, including non-violent conflict resolution and interactions with law enforcement.
The applicant must also pass a 50-shot timed performance test and a 25-question written test.
People who are barred from licensing include those under age 21, felons, fugitives, people who are "chemically dependent" or "incapable of exercising sound judgment", and those in debt for taxes or child support.
Combatting Controversy
Some have expressed concern that the law will increase Texas's crime rate, while others don't think the open carry law will have much of an impact on it– partly because concealed handgun license holders haven't had much of an impact on crime up to this point.
Concealed carry became law in Texas in 1995. Brooks Colson, the owner of Heart of Texas Guns in Abilene, TX, said concerns about open carry are just hype; much like concerns surrounding concealed carry 20 years ago.
"When we passed concealed carry in the state of Texas, the naysayers [said] there will be a bloodbath every time someone blows their horn in traffic, et cetera," Colson said. "[That] didn't happen."
Gov. Abbott adds that open carry hasn't posed a problem in the other 44 states that have allowed it before us. Following up, he also said he trusts Texans to do the right thing. "Texans are responsible," Abbott said.
Though open carry is in effect, private businesses can still ban handguns or open carrying as long as the correct signs are posted. However, if a business does not prominently post the required signage, by default, it is allowing the display of handguns in its establishment. For information on correct signage, you can visit the following website: http://www.statutes.legis.state.tx.us/Docs/PE/htm/PE.30.htm
In addition to the open carry law, Gov. Abbott also signed a bill that allows licensed handgun owners to carry concealed handguns on the campuses of public colleges and universities. The campus carry law goes into effect August 1, 2016.
(Source: KTXS and TX DPS)
Craigslist is a great tool for finding inexpensive stuff or getting awesome deals on otherwise expensive items. Over the years, however, it's gotten a bad rap due to the increased amount of 'sketchy' people using the site as a platform to take advantage of others. There have been several reports of people being mugged, robbed, and even worse in some parts of the U.S. The old rule of "make your deals in public" just isn't good enough any more. Due to the rise in crime, people should be cautious and smart about how they make deals on Craigslist and what private information is shared.
To provide a safe space for Craigslist users buying or selling goods, the San Antonio City Council along with SAPD has approved Safe Exchange Zones for these transactions.
The Safe Exchange Zones are located at six police substations across San Antonio. At each of the zones police are on duty and there are designated parking spaces for exchanges that are under 24-hour surveillance. They are also welcoming users to meet up in one of the substation lobbies if you feel more comfortable.
City Councilman Mike Gallagher, who spearheaded the measure, said it was long overdue.
"I am grateful that the San Antonio Police Department is willing to open their substations for this opportunity. With the establishment of Safe Exchange Zones, not only will our residents be afforded an opportunity to safely conduct e-commerce exchanges with strangers, but they will also have the opportunity to meet their neighborhood patrol officers," he said in a press release.
Safe Exchange Zones:
Central substation- 515 South Frio, 78207
East substation- 3635 East Houston Street (Rosa Parks Way), 78219
North substation- 13030 Jones Maltsberger Rd, 78247
Prue substation- 5020 Prue Road, 78240
South substation- 711 W. Mayfield, 78211
West substation- 7000 Culebra, 78238
Source: SACurrent.com
Joe Krier has been attacking First Responders at homeowner's association meetings for months now. Unfortunately, he has been misleading our community with information that is unverifiable and quite frankly, wrong. At a recent District 9 neighborhood meeting, Joe Krier followed his same script for the last time and the San Antonio Police Officers Association (SAPOA) simply had enough and could no longer stand by while he disrespected the men and women who bravely protect our community.
Joe Krier can disagree with police officers and firefighters all day long. He is entitled to his opinion. What he isn't entitled to are his own facts.
As highlighted in this Express News article by Josh Baugh, SAPOA set the record straight.  This isn't about a future election for Joe Krier.  It isn't about teaching anyone a lesson.  It's about the FACTS.  It's about the TRUTH.  Let's hope Joe realizes he is going to be held accountable and SAPOA will continue to bring attention to his statements when they threaten the men and women who protect our community.
If you find yourself in an emergency situation where you are unable to give the first responder the right emergency information, how do you think they are going to find it? You might be surprised to find out that it is not by looking it up on your cell phone.
Thanks to social media and other information outlets, most people believe that a police officer will find your emergency contact by using the "ICE" (In Case of Emergency) contact label on your mobile phone. Many people diligently keep the label updated under the false impression that it will help.
"That's going to be the last resort that we go to is by calling people. Typically, we'll try to notify people in person," San Antonio Police Detective Jason Aicher said.
Why can't they just look it up? You may be surprised to know that the San Antonio Police don't have the authority to identify a deceased person. This job is left to the medical examiner. And in the case of a trauma, the responsibility goes to the hospital to which the victim is taken. It is the hospital staff that notifies the family or emergency contact.
So what's the best way to keep your loved ones informed in case of an emergency? Your drivers license. In 2014, a new "emergency contact" feature was added to the State of Texas drivers license records.
"What this does is it allows us to have this information handy in the case of a major crash or fatality," DPS Sgt. Jason Reyes said. "We want the public to know that this information is out there."
As of now, this feature is only available to those drivers getting new licenses or renewing their old ones. A plan is in the works to make this feature available online to every licensed Texas driver sometime in the near future.
(source: KSAT.com)
The San Antonio Police Officers Association issued a press release today highlighting their intention to engage on any issues, policies, or politicians that threaten Public Safety.
SAPOA cannot stand by while the City Manager and her team attack police officers and firefighters. NO MORE. NOT ON OUR WATCH.
Read the press release:
Ever think that today's teenagers are usually up to no good or don't care about current events or what happens in their own backyards? Think again. On the heels of the tragic story of Harris County Deputy Darren Goforth being shot to death while innocently pumping gas in the Houston area, a light begins to shine.
Thursday, September 4 was a nasty rainy morning. Mckinley Zoellner, a Houston area teenager, approached Harris County Deputy Constable Tommi Jones Kelley while she was filling up her patrol car at a local service station. Jones Kelley says the teenager innocently and politely asked her if he could watch her back.
"[T]his teenager I've never met before is standing right behind me & says, 'ma'am, do you mind if I stand here behind you while you get your gas?,'" the constable posted on her Facebook page. According to Jones Kelley, when she asked the Zoellner why, the youth stated that he just wanted to make sure she stayed safe. After keeping watch on Jones Kelley while standing in the pouring rain, the constable watched him get into the passenger side of another car. She went up to the car's driver, who happened to be Zoellner's mother, and expressed her gratitude, letting her know that she had an amazing, brave son.
As the story went viral, it brought on increased support from all over the country for our men and women in blue.
Due to events in the past few years, a career in law enforcement has begun to look more and more dangerous. However, Mckinley Zoellner has inspired others to keep our police safe and truly Back the Blue. Jones Kelley was full of appreciation.
"With all the terror going on nationwide, this reassured me that there are still some pretty awesome individuals out there!"
(source: dailydot.com, fox26houston.com)
This Thursday, July 30th, our friends at SEIU will be conducting a City Budget workshop from 6-8 pm at the First Universalist Unitarian Church located at 7150 IH10 West.  The City of San Antonio is entering the final phase of their budget cycle and this is a great opportunity to learn about the revenue, spending, and priorities of our City leadership.
Consider attending!  You will learn a lot about how your tax dollars are spent.